About us
Welcome to PremierVintage
Our family run business has been dealing in Vintage writing instruments for over 20 years. Our current main site has over 1000 pens ready for immediate purchase but this site is dedicated to the best of the best.
We have two sites; one in Normandy, France and the other in Surrey, UK repairing and dealing in vintage pens full time.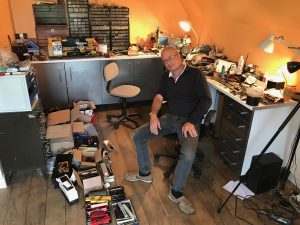 Barry Martin
Barry has been running Heritage Collectables for over 20 years and is a name known in the industry. He currently resides in France where he concentrates full time on his passion for restoring vintage pens.
As well as restoring and dealing in Vintage pens he has helped film and TV companies with pen props and valuation. As you can see in these pictures he has as a fair bit left to do.